Jeane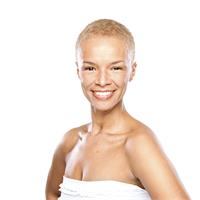 My first exposure to the yoga world was Iyengar yoga in Brasil in the 2000. Immediately it was clear to me that there was so much more to be learn, discover and share with others through the world of yoga. I came from a professional dance background and have therefore always found it natural to express myself through movement of the human body.
At the time I began my yoga practice I was performing 8 shows a week with the musical The Lion King. It is so important to keep your body and mind in top condition so that you are able to perform your best on a consistent level and at the same time avoid injuries. I found a regular yoga practice was essential to this.
In 2004 a colleague of mine took me to my first Bikram yoga in Amsterdam. My first class was with Lydia Wright. After that first class I knew that my life would change. Bikram Yoga brought me both the tool and the challenge to express myself better. A year or so later I moved to Paris and found the Bikram studio there to continue my practice which I found essential to my demanding career. During this time I was inspired and motivated by Marine Ochin to attend the Bikram's teacher training program in 2010. After this nine week intensive program I found I finally had the skills I needed to continue my journey; which was learning and now teaching through healing the body and the mind with this amazing yoga series.
I continued with my career in the professional dance world but this time as the lead choreography assistant. Not only did I have to remain in top physical shape, but I needed a focused mind because I was now responsible for the knowledge and training of 32 dancers. At any moment I would have to fill in for anyone for any reason. I had to teach all of the new dancers their parts. This was a very challenging career change from being only a dancer. Now more than ever I needed my yoga. I continued to teach and practice and that brought me to Singapore and subsequently back to Holland. I am grateful now that I can focus on my career as a yoga teacher and share my love for what this yoga can do. I am grateful to teach and meet so many different people who keep inspiring me.
In my free time,or after hard work I love to spend time cooking Brazilian dishes and share with a big smile to the ones I love.
Jeane instructs the following:
Bikram yoga is a 90 minute hatha yoga series consisting of 26 postures (asanas) and 2 breathing exercises performed in a heated room (approximately 40°C).

It is designed to systematically move fresh oxygenated blood to every cell in the entire body, as well as move the spine in a way that improves the health of the nervous system. By improving the health of the nervous system every system of the body will function better.

Every asana is performed in the same order each time to the best of your ability.

You can learn to steadily make new demands of yourself each class you take; to work harder, deeper, yet calmer. Apply yourself whole-heartedly but in a relaxed manner and you will get the most benefits. You will learn how to breathe in a very relaxed manner, even though your heart may be racing and your body is hot and sweaty.

You will gain peace of mind and the ability to stay focused under many different circumstances. The more you practice the greater the rewards. The best way to find out about the yoga is to try it for yourself.



HELPFUL TIP:
Bookmark this page
Reservations are not needed, but possible if you like to plan ahead. Please arrive 15 minutes before the lesson.
Login at
for information about your lesson card